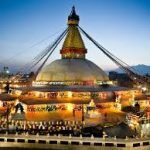 On the 14th October this year, we'll be setting off on a tour of Nepal, hosted by Radio 4's Steve Carver who has 12 years experience in the region. A dedicated 40 page guidebook on the tour, is given to each traveller on arrival, so that they can further understand the magical nature of this journey. As with all our holidays, you'll be treated as travellers not tourists, and have free time to explore, in this very safe, relaxed country.
The journey begins in Kathmandu valley where in addition to seeing the sights, you have access to a more in depth experience of Nepalese life in the city – how people live, their daily rituals, seeing inside their houses, learning about local aspirations and family life is just as important as seeing architectural or religious gems.  Travellers will have experiences to the extremes; from witnessing cremations alongside a holy river, to flying over Everest by light aircraft.  Mixing with the Nepalese (most staff are Nepalese) you'll have a much richer experience – and a lot of fun too – the Nepalese are very warm hearted with a great sense of humour.
After the Valley the group will drive south towards the Indian border, staying in a small jungle town surrounded by elephants. It's here travellers will have the chance to explore the Nepalese jungle and bush. After this they'll drive to Lumbini – the birthplace of the Buddha (he too was Nepalese). Travellers will rest the night in a guest house inside a monastery.  They'll be able to cycle around too.
Next, they drive north and into the lower Himalaya, staying at the beautiful lakeside town of Pokhara. It's here, on clear days, that you'll have stupendous views of the Annapurna range of the Himalaya. There's lots to do here too; from adventure sports, to hiking, sampling its many restaurants along the lake – and shopping for a mixture of Nepalese and Tibetan goods.
We've a good, friendly group coming along on this colourful trip. If  you'd like to join us, please contact us soon.
Category: