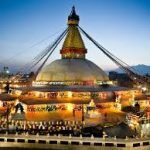 For those lucky ones signed up on our tour to Nepal next week, they're probably already packing, then repacking – and in a pleasant state of flux about 'what to bring.'
It won't be too long now, and they'll be wandering around in the sunshine through the busy streets of Kathmandu; the end of the 'hippy trail.'  Next it's Bhaktapur – an experience as if stepping back in time (the city was used as the setting for the movie 'Little Buddha').  After we'll drive south to the Indian border (just 15 miles away) where we'll ride elephants into the bush, sail down a jungle river, as well as perhaps, enjoy cocktails one or two evenings as the sun sets over the water.
Next it's Lumbini, cycling (or taking a rickshaw) around home of the Buddha, before driving through the mountains to Pokhara below the Himalaya.  Did we mention many will fly by light aircraft over the Himalayas too?
If you want to come on this magical trip in 2019, let us know.
Category: