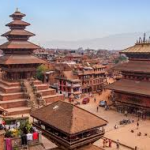 In just over 4 weeks, our next group will travel half way across the planet, and up into the Himalaya, to Nepal.  They'll be 6,000 miles away from their nearest Wetherspoons!  Kathmandu, a busy thriving metropolis, awaits to greet our passengers – in what will be an enthralling and extremely colourful trip.  Expect a shock to the senses.
You'll stay near Thamel, the lively, hippy backpacker district with over 100 bars and restaurants, and yet a 5 minute stroll to local Nepalese life – these exciting first few days combine with a flight over Everest! You'll be in the heart of some of the busiest markets on the planet and see spiritual rituals you've never witnessed before; it's going to be fabulous.
After Kathmandu, we move to the medieval city of Bhaktapur – an altogether quieter and surreal city as if frozen in time – it has been used as the film set for 'Little Buddha.'  Then it's the jungle, riding elephants through rivers, followed by the birthplace of the Buddha (staying in a monastery) and Pokhara – a beautiful lake overlooked by the Himalaya.
The very name 'Kathmandu' conjures up so many romantic images doesn't it:  the end of the Hippy Trail, the beginning of the remote east, and a city in the mountains…… If you want to make a last minute plunge and join us, it's easy, visas are available on arrival…. A 35 page guide book written by Angel Holidays will accompany your trip.
Category: