Girl Guides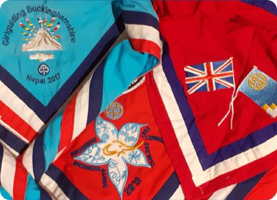 Angel Holidays also organises special journeys for girl guides and their leaders to all our destinations. We've taken adult leaders groups, as well as Guide groups to Cambodia, Laos and Nepal for example. A dedicated member of our team can discuss your needs in terms of duration, a bespoke itinerary and budget.
We can install good charitable and social work experiences, interactions with local schools – as well as meetings with Girl Guide and Girl Scout Association members of WAGGGS in the country you are visiting (where possible) into your trip. We can help you decide what proportion of travel and experiences, social and charitable work, might work best for you. .
In India you can ride camels and camp in the desert, visit a tiger reserve and see the Taj Mahal for example.
In Nepal, you can fly over Everest, learn about yoga or meditation, spend time exploring fascinating Himalayan communities and seeing how traditional young people live.
In Laos you can enjoy jungle boat expeditions towards to border with China, see remote villages, work with orphanages and base yourself in the beautiful golden city of Luang Prabang along the exotic mighty Mekong.
For Vietnam you'll travel the entire length of the country, from lively Hanoi, over mountain passes, the Mekong delta, enjoy beaches and into Saigon. We can also take you into 'King Kong' country where the movie was made.
In Peru you'll explore the Andes, the flight of condors over one of the deepest canyons on earth, sail the highest lake in the world at Titicaca, and take an adventurous train journey through the jungle into the 'lost city' of Machu Picchu.
Please see our tours on this website to give you an overview of our locations. We can also look to develop new tours with you in other destinations you require.
Your next step
If you would like to discuss a possible trip, please contact us for more information. A dedicated member of our team, with years of experience in Girl guiding, can explore some ideas with you.