Holiday in detail
We begin our journey in the colonial part of Cochin (known as Fort Cochin) facing out into the Arabian sea. This will give you a real taste of old Kerala. This is a town that still has a thriving spice trade and was featured in Rick Stein's TV series, with Chinese fishing nets lining a rustic beach and architecture that has both 17th century Portuguese and Jewish influences. Old Cochin is safe and pedestrian friendly, with interesting shopping boutiques, outdoor restaurants and a café-culture. We'll take you on a tour of the sights.
As we help you book your own flights for this holiday, you may want to come out a day or more early, to enjoy more free time in this charming town. We'll pick you up FREE whenever you arrive – up to 3 days before the tour begins.
From Cochin, we drive inland, up over the Cardamon hills to spend two nights in Munnar – a tea plantation hill station developed by the British. We'll explore this area partly by jeep with an optional downhill trek through a tea plantation, as well as a drive into the surrounding areas. From here we adventure to the neighbouring state of Tamil Nadu, to visit Madurai with its huge and beautiful temple complex, said to be the 'Taj Mahal' of south India: a must-see on any visit. Next, we return to Kerala and visit Thekkady, the heart of Kerala's spice farms. We'll visit a spice garden in the area and enjoy a night in a comfortable hotel.
Next, we move to beautiful Kumarakom for two nights, overlooking one of the largest freshwater lakes in South East Asia. You may also want to enjoy our optional (free) boat trips along the lake for sunset. Our hotel here is beautifully placed, within its own grounds with swimming pool near the lake.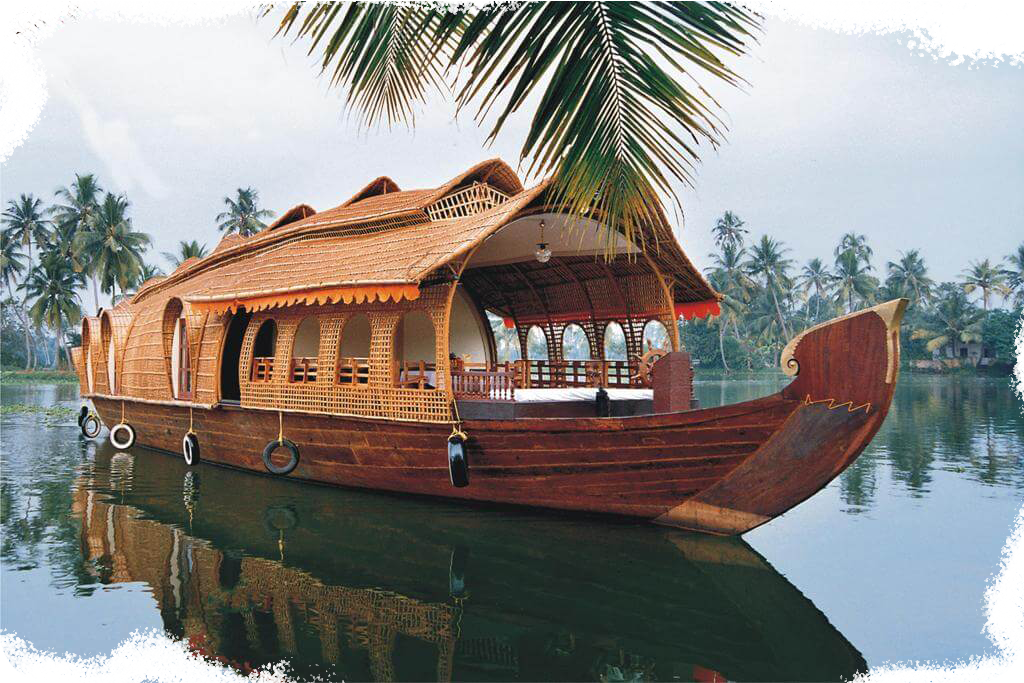 You may wish to take an optional 'bird of paradise' walk into a nearby reserve. Take your time, to relax, enjoy the hotel facilities and sunbathe by the pool. The following day we continue to Allepy, where you will begin an overnight cruise on the backwaters by converted rice barge. All boats are relatively comfortable, with two to three ensuite cabins, and air conditioning at night time. Each barge comes your own dedicated chef (food is included and you can decide when to eat). You can sit out on the deck and enjoy the spectacle of the backwaters. The next day, we take you along the coast to the coastal resort of Varkala, for a comfortable stay. Here you can enjoy free time with rustic bars and cafes as well as the Indian ocean. After relaxing in Varkala, we return to Cochin for a final night and farewell dinner. This is a relatively slow-paced tour, with good, interesting, comforting hotels, where you can also enjoy Kerala at your pace. Like all Angel trips you'll be well looked after on this fully escorted tour. You'll eat some enticingly exotic food, enjoy a nice social atmosphere within the group and can relax with some pampering such as Ayurvedic massage or just lying by the pool: at the same time you'll see all the best Kerala has to offer.
Day 1 Sun (15th January, 2023) Depart UK
As India is 5 hours, 30 minutes ahead of the UK, most flights will arrive next day.
Day 2 Mon Arrive Cochin HB, 2 nights
Also known as Kochi, you will be met at the airport on arrival and transported to your hotel. Please note, you may want to travel out a day or more early to enjoy more of this charming town and relax after your long flight. Extra nights start from just £ per room, please ask on booking. Remember, we pick you up free of charge up to 3 days before the tour starts (from Thursday 13th January). Tonight, there will be an included welcome meal.
Day 3 Tues Tour of old Cochin BB
Today we take you on a tour of the old town. We'll visit what is known as 'Jew Town' with its old synagogue, St Francis Church, the oldest church in India, we'll see how spices are prepared for export all over the world, as well walk along the traditional Chinese fishing nets that along the beach with market vendors and rustic eateries. Today is charming.
Day 4 Wed – The tea plantation town of Munnar BB, 2 nights
Today we drive over the Cardamon hills up into Munnar, a vista of beautiful undulating hills and tea plantations built by the British. This is a scenic drive, where we'll find out why Kerala is also known as God's country, not least with its abundance in growing things from pineapples, to coco, peppers to the ubiquitous coconut.
Day 5 Thurs Tour of Munnar and the surrounds.
Munnar is a beautiful setting and we'll begin our exploration by jeeps. We'll drive to the crest of hill with an optional short down-hill trek through a tea plantation (if you prefer, you can be driven down and enjoy tea and wait). We'll also go inside a tea factory to see how tea leaves are processed and enjoy some tasting. Later, we'll drive the surrounding countryside and stop for free time Munnar.
Day 6 Fri – Madurai BB, 2 nights
Today, we venture into Tamil Nadu to the city of Madurai, home of a fantastical temple complex measuring 700,000 square feet and one of the most important shrines in all of India.
This morning we will visit the temple complex as well as see some of the city. Rest of afternoon free.
Today we head west returning into Kerala and the spice plantation groves of Thekkady. We will visit a plantation and enjoy a comfortable, and exotic stay. Please note, you may wish to visit Periyar National Park here too, but from our experience, we have found the chances of seeing wildlife are disappointing.
Today we head move to Kumarakom, where we stay in a comfortable hotel with pool overlooking the picturesque Vembanad lake – the second largest fresh water lake in South East Asia. You may want relax by the pool or take an optional and free boat trip along the lake for sunset. Our stay here is peaceful, set in its own grounds and surrounded by natural beauty.
Day 10 Tues Allepy, 3 nights, HB
This morning we depart for our drive to Allepy where you'll board your simple boat for the night. These are converted rice barges with comfortable 2 to 3 ensuite cabins per boat, air conditioning at night, and your very own chef to prepare your included meals – lunch, dinner, and following day breakfast are all included. Here you can sit out on the deck and watch the world go by on this relaxing experience.
Today we drive along the coast to Varkarla for a two night stay. Vakarla is an unusual beach resort along a cliff top with a beautiful beach below. There are an abundance of restaurants to choose from.
Day 12. Thurs Varkala BB, Rest day
Today is a rest day to enjoy more of the hotel and surrounding area.
Day 13 Fri Back to Cochin HB
Today we travel back to Cochin for our final night and enjoy a farewell dinner.
Day 14 Sat Home (28th January)
B&B = Bed, Breakfast, HB = Half Board