What to bring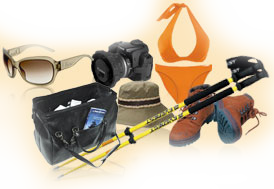 Luggage
Your main baggage must be no more that 20kg (the maximum for internal flights limits). You will have, at times, to wheel or carry your luggage: holdalls or soft-cases with wheels are a good option. If you bring a big, hard case, this will be more difficult for you. Remember this is a casually dressed trip and some good 'fleece' tops, pullovers, and a warm functional jacket is useful. If you have some good walking shoes or trekking boots, you can wear these on the plane to reduce luggage weight.
Small (pack- a-mac) rain coat (just in case)

Shorts, t shirts and light long trousers/skirts/dresses.
A sun hat

A good functional warm jacket
Sun Screen

Mosquito repellent

Hand cleansing gel to keep hands clean
Medicines in case of upset tummy etc

Passport photocopy

Small backpack/bag for daily incidentals
Copy of travel insurance certificate and contact numbers
The currency of Peru is the Sol, with approximately 4.5 to a £1. Our advice is to bring a mixture of $US and/or Sterling/Euro cash, a credit card and an ATM card. Please inform your bank you will be travelling to Peru. Travellers cheques are not popular.