What to expect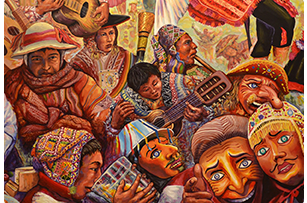 Lying to the northern west of South America, and not far from the equator, as well as covering the high altiplano of the Andes, the Pacific coast and low lying Amazonian jungle, Peru has a great diversity of landscapes and climates.
The people are welcoming and come from a mixture of ethic groups; some indigenous south American such as Quechua and others with European (often Spanish/Portuguese) origins.
The country is relatively poor, however, in affluent areas such as Miraflores in Lima, this is less apparent with modern day restaurants and facilities. Across the altiplano you'll witness some unusual 'moonscape' terrains as well as volcanoes. Cities such as Arequipa and Cusco have a distinct beauty with a colonial feel. At high altitude, shimmering Lake Titicaca and Colca Canyon are adventurous destinations. 
The currency of Peru is the Peruvian Sol with approximately 4.5 to a pound. Whilst pounds can be changed in bigger cities, a better overall currency to bring is the $US or Euros. ATMs are available in towns and cities.
Climate will range from cooler in Lima to a pleasant daytime temperature of around 25 degrees with sunshine in the Andes. Whilst this is a 'dry heat' the Amazon, if you decide to go there, will be more tropical and humid. For the majority of this tour a good warm jacket is useful for the evenings as well as a light mac just in case of showers. Please see our 'What to bring' page.
Food in the region is delicious and varied. In Lima, modern Peruvian cuisine is superb, with a tremendous variety. Overall the food of the country offers a wonderful addition to this tour.
All accommodation is ensuite and on Bed & Breakfast basis. Hotels are a mixture of good, clean, simple and well located 3 star.
Our groups come from all walks of life and all ages; with younger people to retirees. We foster a friendly social atmosphere within the group, as well as giving you the space to explore on your own if you prefer.
You'll be well looked after on this tour. You will have a dedicated tour leader and support staff along the journey. We employ local staff and guides at various sections along the journey to enhance your experience.
Whilst ordinary tour operators focus almost entirely on tourist centres and sight-seeing, with Angel Holidays you'll have a much more authentic experience. You'll have some free time to explore too. All activities within the itinerary are included (at no extra cost unless specified) and you can choose to participate or have a day off and relax – knowing you have the support of our staff and the group. This enables you to get the most of your holiday at a pace you choose. We always have a lot of fun too.