What to bring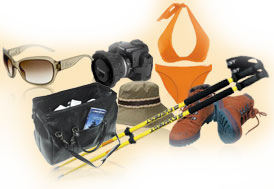 Luggage
Your main baggage must be no more that 20kg (the maximum for internal flights limits) and you can check in only one case/holdall per person. You will have, at times, to wheel or carry your luggage: holdalls or soft-cases with wheels are a good option. If you bring a big, hard case, this will be more difficult for you. Remember this is a casually dressed trip, it will be warm, and you will be tempted to buy souvenirs, so leave some space in your luggage. Below are useful things to bring on your tour of Vietnam, but you can buy all these locally too:
Small (pack- a-mac) rain coat (just in case)

Shorts, t shirts and light long trousers/skirts/dresses.
A sun hat

One light material top with long sleeves
Sun Screen

Mosquito repellent

Hand cleansing gel to keep hands clean
Medicines in case of upset tummy etc

Passport photocopy

Small backpack/bag for daily incidentals
Copy of travel insurance certificate and contact numbers
The currency of Vietnam is the Dong, with approximately 30,000 Dong to £1. Our advice is to bring a mixture of $US and/or Sterling/Euro cash, a credit card and an ATM card. Please inform your bank you will be travelling to Vietnam. Travellers cheques are not popular. You can obtain Vietnamese Dong quite easily. Note that ATM's often restrict withdrawals to just a couple of million, but some ATMs along more. We can advise.