What to expect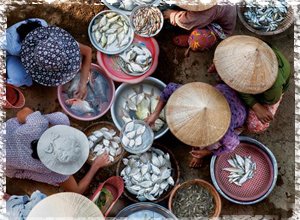 Lying to the east of south east Asia, Vietnam seems to have every landscape imaginable from jungles to hilltops, beaches, busy cities and the Mekong Delta. Culturally it's fascinating too, and despite French occupation or American invasion, it has retained its distinctly Vietnamese ways; it's different from the rest of Asia. There's wonderfully friendly people, unusual food, and fascinating customs.
To the north there's spectacular scenery; unusual karst hillocks and jungle stretching south and eastwards towards the magnificent Halong Bay, all areas we visit. Its beautiful coastline, stretches the entire length of the country, along the South China sea, where you'll travel partly by rail.
This exciting and comprehensive Vietnam tour sees all aspects of the country, whilst giving you free time to explore. You'll experience so much more that just the tourist sights; have a lot of fun and get to meet a lot of Vietnamese people.
The currency of Vietnam is the Vietnamese Dong – there are no coins and the exchange rate can be confusing, with approximately 30,000 dong to £1. One thousand Dong for example, is around a third of a penny. ATMs are available in towns and cities, as well as some exchange services where British Pounds, Euros and $US can be changed. Although with Brexit you may wish to bring US Dollars or Euros. There is no need to obtain Vietnamese currency before travel.
Climate can vary from north to south, generally with the south being warmer. We have chosen dates for this holiday at the best time in the season, when it will be pleasantly warm throughout (Vietnam can be wet from June until December, and too cold in Hanoi from January until March).  In the evening you can dine outside in summer wear. There is a small chance it can be cooler one evening in Halong Bay, so bring a light pullover or fleece just in case. A light mac might be useful too. Please see our 'What to bring' page.
Food in the region is delicious and varied. The most popular simple dish is a noodle soup with added meat, fish, vegetables and optional spices, known as 'Pho' (pronounced as 'Fir'). However, Vietnamese food is wide ranging, both raucous and sophisticated. BBQ food is also popular, and vegerarians are easily catered for. You can also find a limited number of western restaurants in cities. Eating in lively street cafes with the locals, or fine dinning are all available. Bagguettes known as 'buns' are ubiquitous snacks too. Food can be found on every budget, with Vietnam being very cheap by Western standards. Eating out and exploring is an essential part of any visit to Vietnam. This is why we've developed a mixture of half board and bed and breakfast along this tour.
All accommodation is ensuite and on Bed & Breakfast basis with some evening meals. Hotels are a mixture of good, clean, well located 3 star hotels some with pools. In some locations, such as near the jungle you may stay in more rustic cabins (all ensuite) as part of the experience.  Please  note, in some rural locations we may use more than one lodge. On the Halong Bay overnight cruise, you will have a good quality ship with nice viewing deck and air conditioned ensuite cabins. Please note that in some cities you may stay in the very heart of downtown area for the 'full city experience.' This means that some rooms may be smaller than you might expect with views of other tall buildings rather than open vistas.
Our groups come from all walks of life and all ages; with younger people to retirees. We foster a friendly social atmosphere within the group, as well as giving you the space to explore on your own if you prefer.
You'll be well looked after on this tour. You will have a dedicated tour leader and support staff along the journey. We employ local staff and guides at various sections along the journey to enhance your experience.
Whilst ordinary tour operators focus almost entirely on tourist centres and sight-seeing, with Angel Holidays you'll have a much more authentic experience. You'll have some free time to explore too. All activities within the itinerary are included (at no extra cost unless specified) and you can choose to participate or have a day off and relax – knowing you have the support of our staff and the group. This enables you to get the most of your holiday at a pace you choose. We always have a lot of fun too.